About JIMTOF
About JIMTOF
The trade show that is among the first in the world to show cutting-edge technologies
JIMTOF is highly appreciated by industry participants from all around the world as a showcase that is among the first to introduce most advanced technologies. Therefore, many exhibitors that develop their new products with an eye to JIMTOF.
The top level quality and quantity! A wide range of visitors
In recent years, over 100,000 visitors attend JIMTOF continuously without being affected by the business situation. The ability to attract customers has a high reputation.
Complete joint program・Highly specialized information exchanging platform
JIMTOF will host various joint programs where highly specialized information will be exchanged, including professional engineering conferences, lectures and seminars at which industry leaders will discuss their business strategies.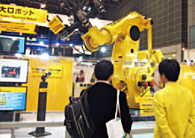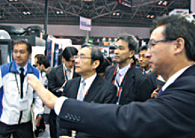 Main Features of JIMTOF2018 – The 6 "Connects"
Currently, the public and private sectors are proactively deploying various measures to realize "Connected Industries" in which new value is created through different kinds of connections. With this in mind, JIMTOF2018 will be held under the theme "CONNECT" and will be providing various initiatives.
Connecting cutting-edge technology with the visitors
JIMTOF will provide a wide range of exhibitors, including Japanese machine tool makers boasting world-class level technologies, with opportunities to showcase their new products and new technologies. We are widely publicizing exhibitor information inside and outside Japan to make this fair even more attractive to visitors as an international technology show.
Connecting the visitors with the exhibitors
A matching system is in full operation as a tool that connects the exhibitors with the visitors, enabling searching and matching based on the needs of each party. Meeting appointments can be made even before JIMTOF2018, allowing more opportunities for active business meetings.
Connecting the technology experience with the visitors
JIMTOF2018 will provide visitors with an organizer-Special Exhibit in which they participate and have hands-on experience in the world of craftsmanship. In addition, programs focusing on cutting-edge products and technology in the machine tool industry will be carried out.
Connecting Japan with the world
JIMTOF is attended by a large number of exhibitors and visitors from overseas, regardless of the business outlook. The last fair brought 11,533 overseas visitors. JIMTOF2018 will be further bolstering its activities to attract overseas visitors to bring even more buyers from around the world.
Connecting students with the future
We are proactively conducting activities to attract students from science and technology universities, and technical colleges throughout Japan. Industry-related programs will be offered so that students who participate in JIMTOF will gain an understanding of manufacturing and craftsmanship in Japan, allowing them to grow their valuable human resources for the manufacturing industries of the future.
Connecting people with a comfortable space
JIMTOF is attended by a large number of participants everytime. We will strive to create a comfortable space for all exhibitors and visitors, from Japan and abroad, by taking such measures as enhancing the resting and dining spaces, deploying more multilingual staff, and also creating mobile apps.
Why you should exhibit JIMTOF?
Overwhelming ability to attract visitors mainly involved in manufacturing industry
The number of visitors to JIMTOF has steadily increased, with over 140,000 visitors at JIMTOF2016.
In addition, over 70% of the visitors are involved in manufacturing industry.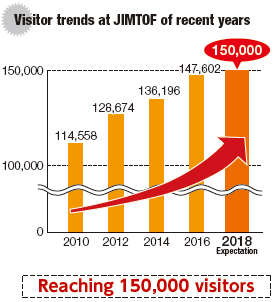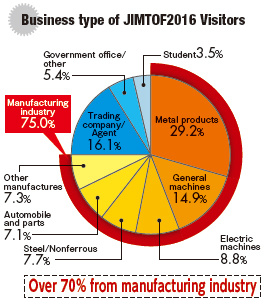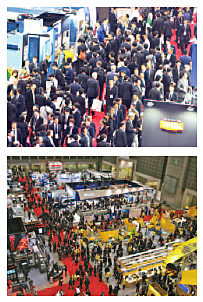 Attracts worldwide attention, good chance to develop global business
Buyers from all over the world visit the trade show to find quality and high-performance products and services.
The number of overseas visitors at JIMTOF2016 was a record high.
Visitors from over 77 countries and regions visited JIMTOF2016.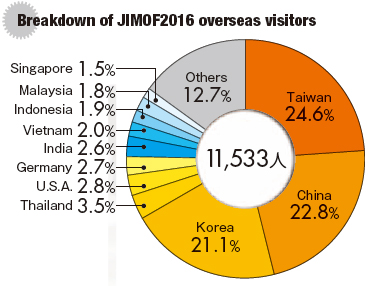 Many opportunities for talking face to face, with a number of visitors who are involved in the purchase of products
There are many visitors to JIMTOF who are executives and purchase decision maker, or technical expert who actually handle machine tools and are involved in purchase. This trade fair provides opportunities to show your products and technologies for an effective marketing.