WORLD CLASS !
One of Japan's largest international machine tool fairs
JIMTOF,
one of the world's largest international technology shows
, brings together cutting-edge technologies and products. The fair serves as a
comprehensive showcase of items from across the manufacturing spectrum
, ranging from machine tools to peripherals of all kinds. The fair will be held in
all of Tokyo Big Sight's exhibition halls
, creating an event scale spanning about
120,000 m2
in size!
One of the first trade fairs in the world to showcase cutting-edge technologies
JIMTOF is highly regarded by industry professionals around the world as a site where they can catch the first glimpse of the newest cutting-edge technologies. Many exhibitors develop new products to coincide with JIMTOF.
World class in terms of quality and quantity with a wide range of visitors
Irrespective of the business climate, JIMTOF has continuously welcomed over 100,000 visitors in recent years, and has a reputation for attracting a highly stable customer base.
Substantial concurrent programs and highly specialized platform for information exchange
JIMTOF hosts a wide range of concurrent programs where highly specialized information is exchanged, including professional technical meetings, lectures and seminars on industry-leading business strategies.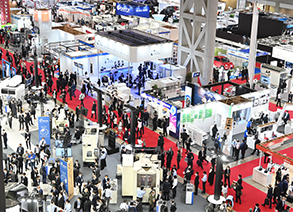 Why Exhibit at JIMTOF ?
1
Incomparable potential to attract visitors, with a focus on the manufacturing industry, and directly engage with highly interested groups
A total of 114,158 visitors made their way to JIMTOF 2022, the scene of lively business meetings. More than 70% of all visitors were from the manufacturing sector.
Number of visitors at JIMTOF 2022
114,158
Multi-entries on the same day or multiple days counted as one visit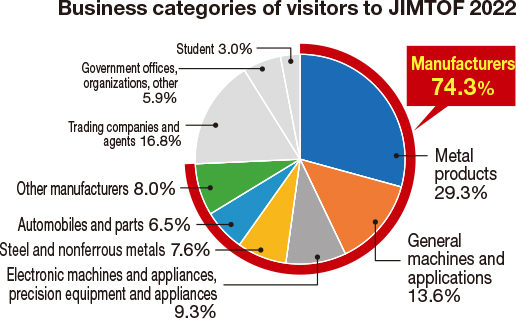 2
Recognition on the world stage and excellent opportunities to extend global reach
Manufacturing professionals and buyers from all over the world visit JIMTOF to find quality and highperformance products and services. Two hundred companies from 22 countries and regions set up booths at JIMTOF 2022, which was attended by 4,815 visitors from 55 countries and regions across the globe.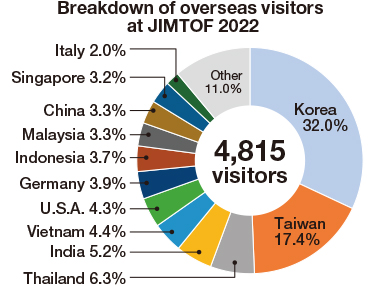 3
Ample opportunities to talk business face to face with large numbers of visitors involved in product purchasing
Many visitors to JIMTOF are executives and purchase decision makers, and businesspersons who actually handle and are directly involved in the purchase of machine tools. JIMTOF offers exhibitors opportunities to directly promote their products and technologies and sets the stage for the start of substantive business meetings.