About Additive Manufacturing Area in JIMTOF 2022
Additive Manufacturing (AM) / 3D printing are current trends which are expected to continue to grow, and they are getting a lot of attention, including in the machine tools industry.
At JIMTOF 2022, we will establish a special area with AM products and technology gathered together, enhancing distribution of information to create new opportunities for business deals.
■

Area composition
Exhibit area
Special Seminar Venue in the area
Set up a Special Seminar Venue within the area.
We provide one-stop information dissemination combined with exhibits.

Why Exhibit at Additive Manufacturing Area in JIMTOF2022?
Effectively promote your company's AM products and technology
In addition to the exhibit area for introducing large numbers of high-profile AM products and technology all in one place, there will also be opportunities for effective communication such as featured seminars at a special seminar venue in the area. Due to the proactive promotion of the event by the organizers, numerous visitors with an interest in AM will take part, enhancing the effects of exhibition.
Global top class customer attraction with a focus on manufacturing industry professionals
Numerous manufacturing industry professionals from both inside and outside of Japan come to JIMTOF.
Share the appeal of your company's products and technology with event participants with keen interest in AM and other cuttingedge technology, such as purchasers and design and development personnel.
JIMTOF2018 DATA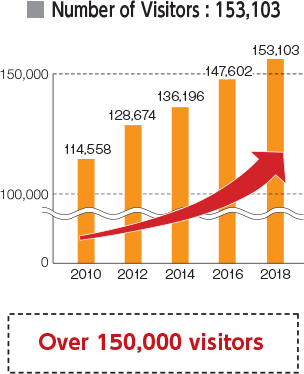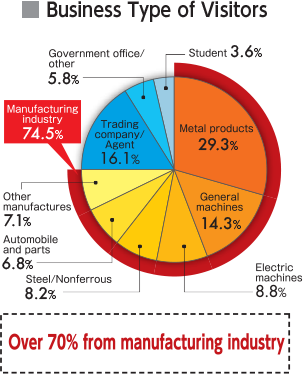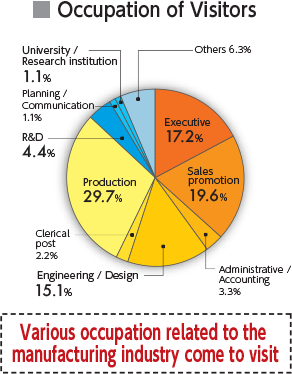 Connection and interaction with high-quality exhibitors
Numerous industry-leading machine tools and their related equipments manufacturers exhibit at JIMTOF.
It is also an opportunity for connection and interaction with fellow exhibitors who have an interest in AM products and technology.

PR tools & services to enhance the effectiveness of the exhibition
Exhibitor Workshops
Through workshops at the Special Seminar Venue set up within the area, exhibitors in the AM Area can promote their latest products, cutting-edge technology and solutions, etc.
(1)
Venue
:
Special Seminar Venue in the area
(2)
Date
:
November 8(Tue.) – November 13(Sun.), 2022
(4)
Number of seats
:
Approx. 100
(5)
Fee
:
JPY 55,000 (tax included) / unit
(6)
Equipments
:
Projector, Screen, Microphone, etc.
*Please see the "Exhibitors' Manual" for more details.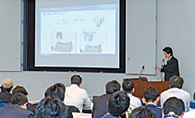 ●The same exhibitor services as JIMTOF2022 is also available.
① Gathering Visitor Date (The rent an admission pass reader.)
② Listing on the Official Guidebook and JIMTOF Official Website
③Advertising for Exhibitors
④ Matching System etc.
*Click
here
for details of each service.

Organizer's efforts
The organizers will actively engage in a variety of initiatives to enhance this area.
1 Seminars by Organizers
We will hold" Seminars by Organizers" including keynote speeches and seminars on the latest trends in the industry at the Special Seminar Venue in the area, providing a place where participants can get the latest information from various perspectives in addition to the exhibits.
2 Special Exhibits
As a means of enhancing the ability to disseminate information about AM products and technology, we will hold the attractive"Special Exhibits"to attract the attention to this area as organizers.
3 Promotional Activities for Visitors
We will actively promote this area through JIMTOF Official Website, social media, etc.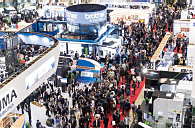 Venue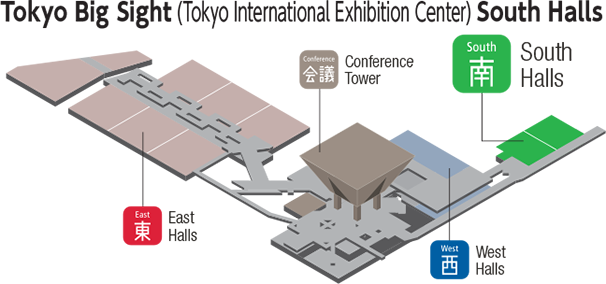 ---
Click here for Exhibition Guidelines
Click here for the Special Event "Additive Manufacturing Area in JIMTOF 2022"