About JIMTOF
I
The trade fair that is among the first in the world to show cutting-edge technologies
JIMTOF is highly appreciated by industry participants from all around the world as a showcase that is among the first to introduce most advanced technologies. Many exhibitors develop their new products with an eye to JIMTOF.
II
The top level quality and quantity! A wide range of visitors
In recent years, over 100,000 visitors attend JIMTOF continuously without being affected by the business situation. The ability to attract customers has a high reputation.
III
Complete joint program・Highly specialized information exchanging platform
JIMTOF will host various joint programs where highly specialized information will be exchanged, including professional engineering conferences, lectures and seminars. Industry leaders will discuss their business strategies there.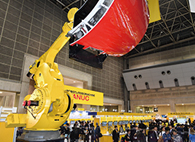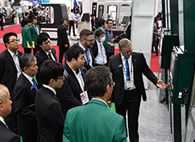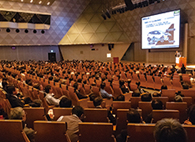 Why exhibit JIMTOF?
1
Overwhelming ability to attract visitors mainly involved in manufacturing industry
The number of visitors to JIMTOF has steadily increased, with over 150,000 visitors at JIMTOF 2018.
In addition, over 70% of the visitors are involved in manufacturing industry.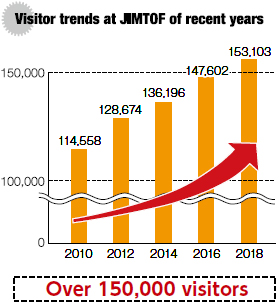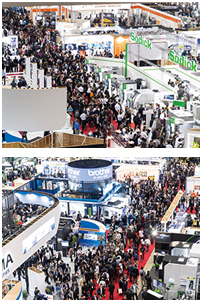 2
Attracts worldwide attention, good chance to develop global business
Buyers from all over the world visit to find quality and high-performance products and services.
The number of overseas visitors at JIMTOF 2018 was a record high. Visitors from over 63 countries and regions visited JIMTOF 2018.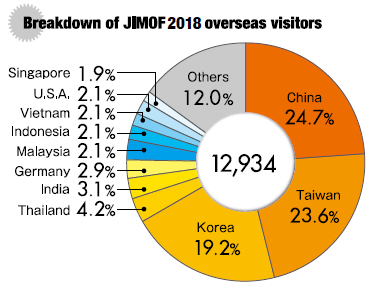 3
Many opportunities for talking face to face, with a number of visitors who are involved in the purchase of products
There are many visitors to JIMTOF who are executives and purchase decision maker, or bisinessperson who actually handle machine tools and are involved in purchase. This trade fair provides opportunities to show your products and technologies for an effective marketing.