JIMTOF offers a wide variety of services and tools to enhance the effectiveness of the exhibition.
This time, in response to your requests, we will further enhanced our
digital PR tools
.
JIMTOF will continue to publicize further "meetings" through new initiatives.

Our digital PR tools will be even better!
We will expand our tools to support the online publication of information, which has been highly praised at JIMTOF 2020 Online.
More detailed and continuous PR will be available, not only during the exhibition but also before and after!
Use it as a tool further to invigorate your business meetings at venue.
Enhanced Online Catalog Features
A free, online catalog to which all exhibitors can register; promotes highlights and new products before the fair. From JIMTOF 2022, multiple images and videos can be published as an option. There are even more ways to publicize information.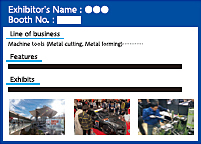 Expanded Information Delivery Services From the Official Website
We offer the option of posting videos on the official website and allow exhibitors to broadcast their own webinars and PR videos on demand. You can also continue to publish your own, latest news releases. By providing your exhibition information to the press and buyers in advance, there will be even greater effectiveness in attracting customers to your booth and expanding your own business negotiations at your booth.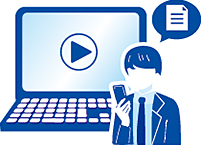 Supports for "encounters" at JIMTOF!
We will continue to implement our conventional initiatives. We hope you'll experience the service first hand because JIMTOF has a track record of 60 years of service.
Gathering Visitor Data
JIMTOF has installed a visitor management system, which enabled accurate visitor counts and timely and efficient customermanagement. It facilitates more reliable follow-up contacts after the fair.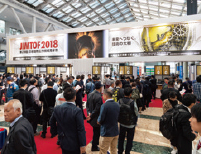 Exhibitor Workshop
Exhibitors can promote their stateof-art technologies and solutions at workshop. The inclusion of your workshop information in official event materials and on the website represents an excellent opportunity to promote your company's products and services.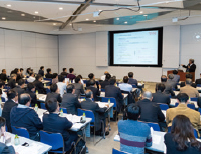 Advertising for exhibitors
Exhibitors can make use of advertising media exclusively. A variety of advertising media will be available, including ads on signboards inside and outside the venue and official guidebook and banner ads on the official website.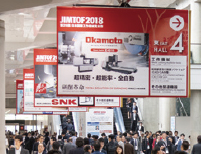 Matching System
Register product information with our matching system for free. You will be able to offer meeting appointments directly to visitors even before the fair begins.
JIMTOF2022 has made the search feature even easier to use. It provides more convenient and efficient business meetings.